Sponsored Organizations
THANK YOU! – Take a moment and click Exalted Warrior donation thank you letter Quantum Leap Farm donation thank you letter for feedback from our 2023 charity recipients.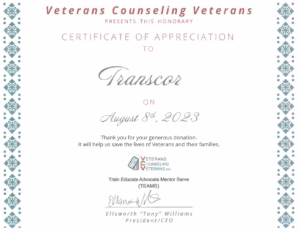 Above, is a certificate of appreciation from Veterans Counseling Veterans
---
Our 2023 non-profit charities are: Exalted Warrior Foundation, Quantum Leap Farm, and Veterans Counseling Veterans.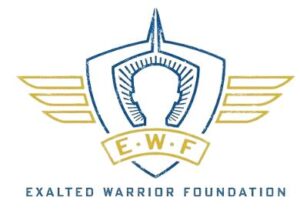 Exalted Warrior Foundation is a 501(c)(3) nonprofit that facilitates an adaptive yoga instruction program. Exalted Warrior serves Veterans, active duty and military reserves, as well as spouses and caregivers in VA hospitals and in community studio spaces around the country.  Faced with the demands of both a physical and emotional recovery, adaptive yoga allows newly and long-term disabled veterans to reconnect with both them and their loved ones. Warriors with PTS, amputations, traumatic brain and spinal cord injuries have greatly benefitted from our modified yoga practices in conjunction with iRest and meditation. Click here for more.
The Mission is to improve quality of life and inspire personal growth through equine-assisted therapies. The vision is excellence, not perfection. At Quantum Leap Fram, we envision a world where people are accepted unconditionally.
The purpose is to support the well-being of individuals with physical, emotional and intellectual differences, and empower them to focus on their abilities.
Click here for more.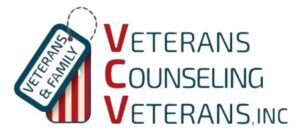 Veterans Counseling Veterans, Inc., (VCV) is a veteran-led nonprofit providing training, education, advocacy, mentorship and service (TEAMS) to veterans and their families in the areas of mental wellness and suicide prevention. While we value the contributions of all individuals and groups that play in role in supporting veterans and their families, VCV believes veterans and family members are obligated to help each other. VCV's guiding principle is "We don't only sympathize; we empathize because we walked in your boots" "Taking Care of Our Own". VCV will become a nationally recognized veteran organization providing a place for military veterans and spouses of military veterans serving in the behavioral health profession to collaborate, share and grow in the field of behavioral health; and help to bridge the gap of understanding between the civilian population and military veterans. Click here for more.
---
In 2022, collaborated with organizations that work with children that are in the foster care system, art for children with disabilities, and supporting our veterans. These organizations were:   Royal Family Kids Camp, A Door of Hope, Valor Service Dogs, and Creative Clay. Click here for Charity Presentations from Candice Agosto and our 2022 recipients.
---
In 2021, we donated to three worthy nonprofit organizations: Champions for Children, Forgotten Angels, and Love IV Lawrence. 100% of the proceeds are going to worthy organizations. These programs build strong parent-child bonds and help grow parental confidence and skills.
---
In 2020, we donated to Bridging Freedom, a group who focuses on removing young girls from sex trafficking. Florida is 3rd highest in the nation for sex trafficking across the United States. Tampa Bay is one of the larger problem areas in the state. An estimated 21 million children, women, and men are caught in the cycle of trafficking worldwide, with 80% of trafficking victims being female, while up to 50% are children.